Supreme Deck is an award winning and leading Trex deck installers for Sterling Heights, Michigan.  We are a TrexPro Platinum builder that installed over 250 Trex Transcend, Enhance Naturals and Enhance Basics decks in 2022.  All of our Trex decks come with a manufacturer 25 year warranty and a 2 year labor warranty.  We specialize in the construction, building/repair of decks, and sun-rooms.  Supreme Deck is a trusted custom deck building company that services the Clinton, Harrison Township, Sterling Heights, Macomb, Shelby, Rochester (MI) Michigan areas.  We are detail and quality oriented providing you the best service in the custom deck building & construction industry. Supreme Deck Building is a licensed and insured Michigan custom deck construction company. We also feature the new Trex Lineage decking
Supreme Deck, near Sterling Heights and New Baltimore, Michigan, won the Stellar Service Award in 2017. Trex presents this award annually to one TrexPRO Platinum from each of Trex's 5 sales regions across the USA. This award is earned by installing enough Trex decks to be within the top 25% of the region and having the highest number of surveys returned while maintaining a customer satisfaction rating of at least 4½ out of 5 stars.
 Searching for deck builders near me?  Trying to find a highly recommended deck builder near the Sterling Heights Shelby Township area?  We have serviced the Michigan area since 1991 and can build Trex decks for less than most contractors saving you money.  If you have a  cedar deck that is rotting let Supreme Deck Builders evaluate it and give you a quote for a re-deck.  Deck replacement is becoming popular and by saving the under-structure we can save Michigan homeowners a lot of money. Supreme Deck is one of Michigan's most trusted and best Clay Township, Michigan deck builders. We consider ourselves one of Michigan's best deck builders. We invite you to come see your new Trex deck in person at our showroom in Livonia for some ideas.
Save money and have a deck built after November 1st, our off peak season


We build and repair decks all year round….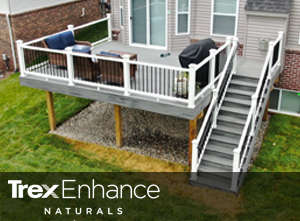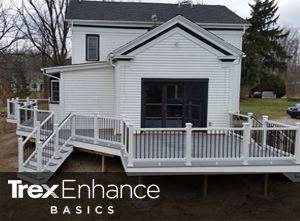 A Sterling Heights, Michigan
Custom
deck builder
that's serious about delivering superior results to every one of their clients is exactly what you need if you've been considering installing a new deck or replacing your existing wood deck for your home in Southeastern Michigan. Don't trust your project to just any unlicensed deck builder in Metro Detroit, Michigan because they offer the lowest price.  We are licensed and insured in Michigan and were one of the top Trex decks installers for Michigan for 2022. If you are planning on installing a Trex deck and are getting estimates, make sure you hire a TrexPro Platinum installer. Most homeowners don't know that in order to get the 25 year warranty on your Trex deck, it must be installed by a certified TrexPro installer.  These Trex decks need to be put together a certain way for Trex to insure they do not come apart after a winter season in Sterling Heights, MI. We work hard to be the best custom deck builder in Southeast Michigan.  We will do everything in our power to ensure we install the deck you've been looking for. We take a lot of pride in developing your plans and ideas into the right deck to compliment your home's existing style and décor.
We invite you to visit our Trex showroom in Livonia for ideas for your new Trex deck
Contact us at 734-432-0099 to arrange a construction or deck replacement estimate.
Supreme Deck Builders is a TrexPro Platinum installer Sterling Heights, MI
TrexPro® Platinum contractors have achieved advanced product and installation training and make up a select group of talented and dedicated professionals experienced with using Trex products to craft the deck of your dreams.
Trex products are backed by a 25-year limited warranty. The Trex 25-year limited residential warranty offers coverage against material defects in workmanship and materials, and against splintering, splitting, checking, rot, decay and termite damage.
Sterling Heights is a city in Macomb County of the U.S. state of Michigan, and one of Detroit's core suburbs. As of the 2020 Census, the city had a total population of 134,346.  It is the second largest suburb in Metro Detroit, and the fourth largest city in Michigan. We service Orion Township is near Sterling Heights. Trex Decking is a popular choice near Harrison Township for docks
Searching for deck builders near me? We build great decks for less.
Sterling Heights, Michigan Deck Repair & Building
Auburn Hills, Michigan Deck Repair & Building
Berkley, Michigan Deck Repair & Building
Beverly Hills, Michigan Deck Repair & Building
Livonia, Michigan Deck Repair & Building
Bingham Farms, Michigan Deck Repair & Building
Birmingham, Michigan Deck Repair & Building
Bloomfield, Michigan Deck Repair & Building
Bloomfield Hills, Michigan Deck Repair & Building
Canton, Michigan Deck Repair & Building
Bloomfield Hills, Michigan Deck Repair & Building
Fraser, Michigan Deck Repair & Building
Northville, Michigan Deck Repair & Building
Rochester Hills, Michigan Deck Repair & Building
Plymouth, Michigan Deck Repair & Building
West Bloomfield, Michigan Deck Repair & Building
Ann Arbor, Michigan Deck Repair & Building
St Clair Shores, Michigan Deck Repair & Building
Milford, Michigan Deck Repair & Building
South Lyon, Michigan Deck Repair & Building
Ferndale, Michigan Deck Repair & Building
White lake, Michigan Deck Repair & Building
Lake Orion, Michigan Deck Repair & Building
Commerce, Michigan Deck Repair & Building
Hartland, Michigan Deck Repair & Building
Macomb, Michigan Deck Repair & Building
Huntington Woods, Michigan Deck Repair & Building
Harrison Twp, Michigan Deck Repair & Building
Orion Twp, Michigan Deck Repair & Building
Royal Oak, Michigan Deck Repair & Building
Oakland Township, Michigan Deck Repair & Building
Lathrup Village, Michigan Deck Repair & Building
Macomb, Michigan Deck Repair & Building
Fenton, Michigan Deck Repair & Building
Clinton Twp, Michigan Deck Repair & Building
Shelby, Michigan Deck Repair & Building
Pleasant Ridge, Michigan Deck Repair & Building
Ypsilanti, Michigan Deck Repair & Building
Washington Township, Michigan Deck Repair & Building
Rochester, Michigan Deck Repair & Building